Our Cardboard Dump Bins Review
Cardboard dump bins are popular kits used in commodity display in the retail market. As dump bins are easy to be positioned on any spots in the shop, in addition to good agility in loading capacity, these allowing the bins to be the popular option of using in new product line promotion as well as stock clearance sales. Here we list 3 basic types of dump bin that are popular in the use of retail activities.
1, Tray on top.
This type usually has a display focus design on its end cap. Usually will attach with a header card for enhancing sign effect. The advantage of this structure is to have a good openness for the commodity to attract shopper's eyes. The lower part of the bin can be a container to store an extra amount of commodity, as well as giving good size faces for printing. Pls chk pics below: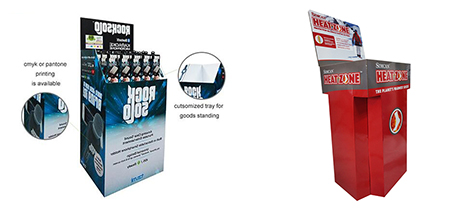 2, Box type
This type will contain merchandise throughout the whole bin with an opening at the front for exposure of the inside items. It usually used for containing the larger size, light-weighted commodities, such as traveler pillows, plush toys, apparel, etc.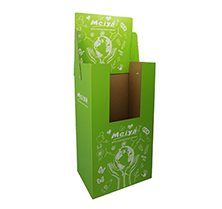 3, Bin with lid
A lid is designed to cover the top but leave with an opening(a hole) in the center for shoppers to access the selling goods. It can also be used the other way around for collecting recyclable items from the passerby. This structure gives convenience in using it as the shipper packaging when loaded with items.