Latest Inquiries of cardboard display stands in July, 2020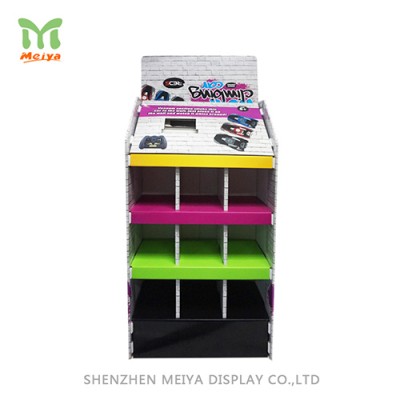 Shenzhen Meiya Display CO., LTD. was established in 2005, specializing in various kinds of cardboard display stands. With a workforce of over 200 people of high caliber and an area of 10,000 square meters, we maintain a high production output consistently to meet the rapid growth of demand from customers around the world. It is our company policy since our establishment to offer high quality service to customers. Cardboard displays are always sentry of a company's products, and no effort should be spared to catch the shoppers' first sight. We offer one-stop service, including bespoke design, complete solution of cardboard displays according to individual customer's requirement, manufacturing and shipping. We have many successful experiences, and indeed caught quite a lot of first sights from shoppers all over the world.
As the most reliable and experienced cardboard display stands manufacturer, we got many inquiries from our potential clients every day, and we would like to share some of them with you:
| | | | |
| --- | --- | --- | --- |
| 联系人 | 留言内容 | 留言日期 | 电子邮箱 |
| P*** | Dear Emily, I lost the Alibaba channel contact maintained with you. Could you pl send the Wechat contacts. | 2020-07-30 05:13:31 | p***@gmail.com |
| c*** | Hi am interested in the drink coaster display. Can you tell me how much it is? Many thanks, C*** | 2020-07-22 20:28:35 | c***@outlook.com |
| A*** | Hello. We are looking into purchasing shippers for our baking mixes. Thank you, A*** | 2020-07-20 03:34:10 | sales@***.com |
| K*** | Good morning, Do you custom print polyester shower curtains? | 2020-07-20 01:36:49 | K***@yahoo.com |
| j***@***.hr | Inquiry for high-quality Cardboard Floor Display Stand for backpacks Dear Sir or Madam, We're looking for high-quality Cardboard Floor Display Stand for backpacks. We would need a reliable, sturdy, and high-quality stand made out of cardboard to display our backpacks and other products in the distributor stores. Approximate dimensions should be 80cm width and 80cm length, and height can be up to 200cm. We would send you the design to print on it. Can you please send us more information (price, lead time, MOQ) if you have a similar product and some pictures? Thank you, | 2020-07-14 17:10:01 | j***@k***.hr |
| J*** | I am looking for a 9-cell or 12-cell cardboard counter display for coasters. I am looking for a quote for 100. | 2020-07-05 05:51:37 | h***@gmail.com |
| K*** | Hi There! I am looking to get displays for our products at expos. We are looking for cardboard displays with peg hooks. I'd love to start a conversation and give you some more information to see if you have anything we could use. Thanks! | 2019-07-02 02:50:49 | k***@***.com |
| P*** | We are looking for dump bins. Can you email us some options | 2019-07-01 15:19:04 | p***@gmail.com |
If you are also interested with our cardboard display stands, please visit our website www.meiyaprinting.com for more information. If you have any query, please feel free to contact us at manager05@meiyaprinting.com.